A few days ago while I was testing the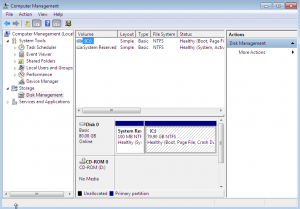 Image capability of UrBackup on XenServer (another story) I noticed that Windows Server 2008 R2 creates a 100MB large Partition called "System Reserved". On closer look a partition like this also exists on my Windows 7 (x64). Windows 7 apparently keeps some files for booting there so that it can still repair the main C: partition in case something happens to it.
One user already mentioned that such a partition exists and UrBackup should also include it into the image backups, but I couldn't reproduce the problem till now (I asked him which Windows he was using and he didn't answer).
In order for the partition to not be created and used you have to manually partition during the Windows setup.
As this is a major bug/limitation of UrBackup, because it causes the restored images of operating systems with this partition not to be bootable I decided to fix this problem in Server 0.24/Client 0.38 (further delaying said versions). If this partition exists it gets downloaded to the server and is associated with the normal image backup of the "C" partition. If you restore an image the "System Reserved" partition will be restored after the "C" partition, if it exists on the server thus making a restored image of the operating systems mentioned above bootable.